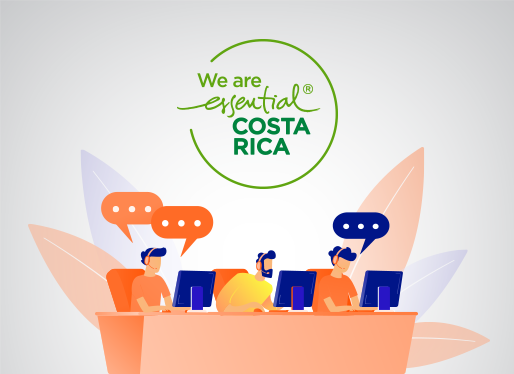 Essential Costa Rica is the Country Brand, used to promote the efficient use of natural resources, the culture of innovation and continuous improvement, equal opportunities and representativeness of the country with the values of Excellence, Sustainability, Innovation, Social Progress and Costa Rican Linkage.
Through the Country Brand it is intended to ensure the relationship and coordination of the activities and instruments for promoting the country abroad, simultaneously generating confidence in investors and the foreign public.
The executing unit in charge of carrying out the certification processes of companies and organizations to validate compliance with the standards of the Country Brand is the Foreign Trade Promoter PROCOMER.
NETCOM successfully passed the strict certification process and obtaining the Country Brand reaffirms our leadership in the Contact Center industry in Costa Rica and ratify our competitiveness and the quality standards of our services.
In addition, we are known for promoting social and economic progress in harmony with nature, excellence and quality standards in our people
We want to continue growing by creating synergies with our local and international partners!